Fragrant snails, blood cockles, crabs … are delicious seafood dishes that should be "located" in the sea trips.
Seafoods in Vietnam's waters have many similar types, but depending on the conditions of each region, seafood here may be better than elsewhere, and depending on the processing and creation of the people in that area, making seafood become attractive dishes that are difficult to resist for tourists when coming to each region of Vietnam.
1. Nha Trang natural incense snail
Snail is one of the most popular types of sea snails today because of the extremely attractive natural scent. Snails live in tropical waters, the bottom of the sand has a depth of 5-20m.
Sweet and crispy snail meat is rich in protein and B-vitamins, very good for the brain and nervous system. If one has once enjoyed the steaming snail with ginger and lemongrass with chili peppers, it will not be able to forget the characteristic sweet taste.
2. Binh Ba lobster (Khanh Hoa)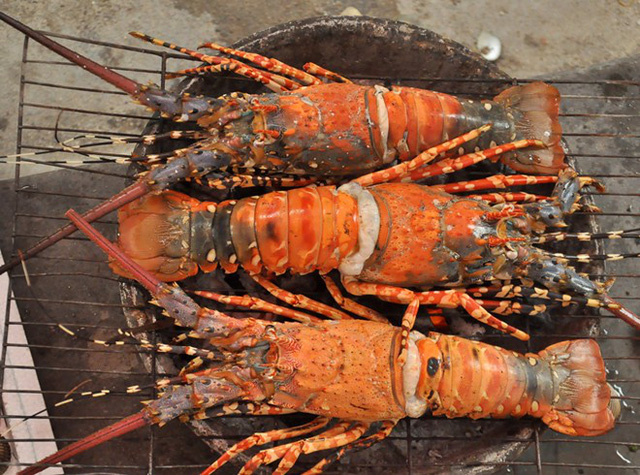 Binh Ba lobster has a special flavor. This lobster meat is delicious, so it is good to prepare dishes. Including the porridge. A pot of fragrant porridge with the red color of shrimp meat, the light yellow color of fat, the green of the cilantro makes tourists come to Binh Ba to enjoy this special dish.
3. Ca Mau Five-Crab Crab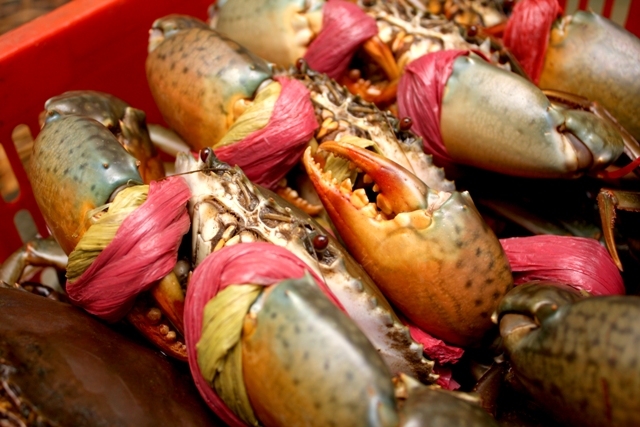 It is possible that Nam Can crab's name may still be unfamiliar to most Hanoi people but for seafood connoisseurs, this is the land associated with the best crab in Vietnam. Nam Can sea crab has a hard shell, strong meat, and aromatic flavor, it is considered to be better than crab in other areas that often live in brackish water.
4. Crab (Phan Rang)
Crabs are the best seafood in the top value in Phan Rang Ninh Thuan. Crab meat is rich in protein, tastes sweet and bar and is almost fat-free and becomes a popular favorite seafood. Crabs can be processed into many delicious and attractive dishes: boiled, baked, steamed, cooked porridge, cooked hot pot, … But the best is still steamed beer, served with pepper salt lemon chili or sweet and sour sweet tamarind.
5. "Ink blinks" Cua Lo (Nghe An)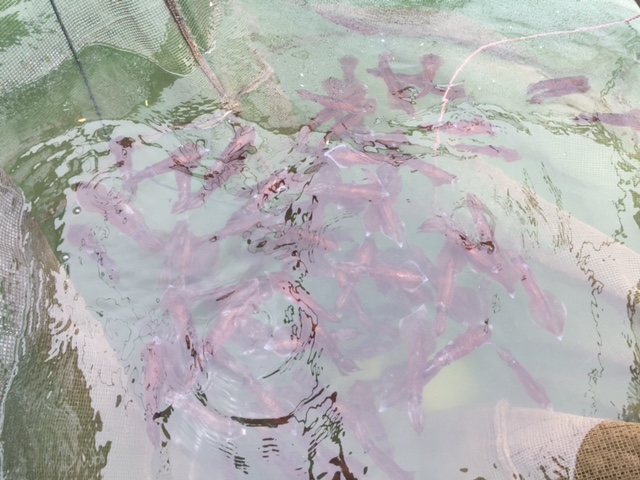 "Ink dance", the name is so fresh that, when you put it in the pot on the stove, the squid also "jumps." Some people call it "ink blink" because the squid catches the water and meets the moon or lights, the rays reflected on the eyes, on it it flashes and twinkles, The above two ways of expressing the different states of the squid all speak of the level of freshness of the squid. Feeling the freshness and freshness, the squid meat is both crispy and tough, so the people feel refreshed and eat well without being bored.
6. Ocean tuna (Phu Yen)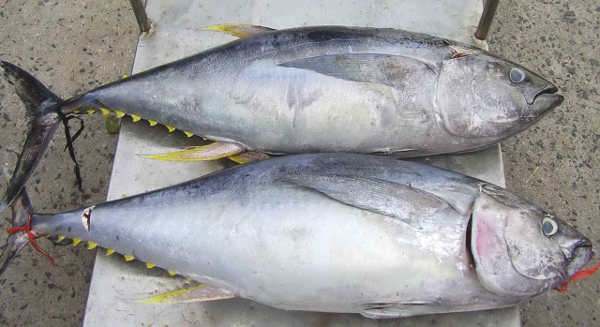 From fresh tuna meat we can make into dozens of dishes such as tuna salad, tuna cream sauce, grilled tuna with coconut leaves, braised tuna tuna, orange sauce tuna, pan-fried tuna, cooked tuna lotus seeds … Tuna eyes have items such as water-way tuna eyes, red squid tuna eyes, lotus seed tuna eyes, egg-shaped tuna eyes, tuna eyes with potions, and tuna eye eyes. five willow …
Enjoying Tuy Hoa ocean tuna dishes (Phu Yen) is considered the most stylish. After cleaning the fish, cut it into 4x5x0,5cm pieces, then put the fish into a chilled tray. When you see a piece of frozen tuna, there is a color from magenta turning pink or white to pink, then edible.
7. abalone Bach Long Vy (Hai Phong)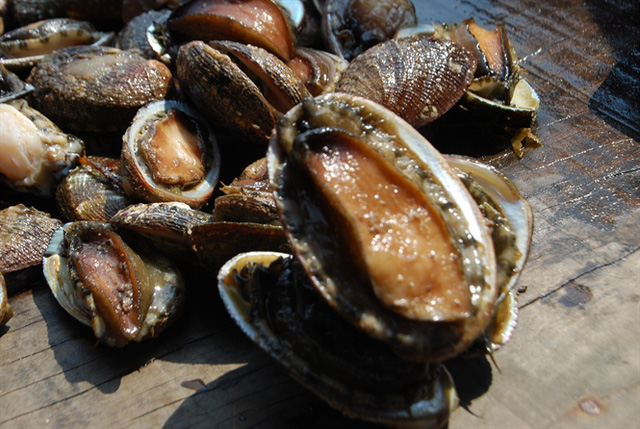 The abalone in the sea area of Bach Long Vi Island belongs to the "paint of the sea", belonging to the "bowl" of rich medicinal properties, has the ability to supplement, increase gas, cool down, enhance vitality for men. , help to brighten eyes, treat cough and indigestion, both abalone shells and intestines are used as medicine to treat diseases and enrichment, abalone is processed into many nutritious foods: live abalone is squeezed through ginger juice, sliced very thin, squeezed lemon, mustard sauce – soy sauce, when eating with a hard, hard-to-describe crisp feeling Abalone made with porridge full of compost (drop the shell into porridge), abalone with oyster sauce or raw hair with soy sauce is also very sweet, good.
8. Phan Thiet one-day sun ink (Binh Thuan)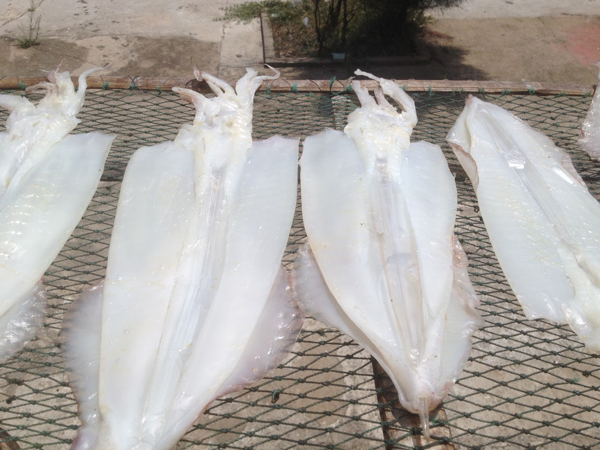 Coming to Phan Thiet to enjoy a sun-dried squid is an interesting thing. The big squid leaves spread out, just once through the sunshine of Binh Thuan, then grilled on embers, the ink will fall to a light yellow, subtle scent. This squid dish will be much more delicious when spotted with Phan Thiet fish sauce for a few slices of chili. The chewy sweetness of the squid, the moderate salinity and the fragrant aroma of the fish sauce and the spicy flavor of chilli bring visitors more excitement. Just like that but this very simple change of food will leave nostalgia in the hearts of many guests who have ever enjoyed it.
9. Con Nuoc Con Con (Ba Ria – Vung Tau)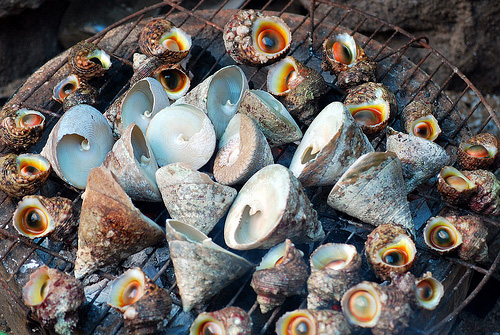 Her breasts are an indispensable item in the menu of those who visit Con Dao. Snails are shaped like the breast of a girl, just call names, this unique snail has made many people curious, learn, want to explore, to be surprised when meeting and enchanting.
Looking at the outside appearance, her nipples were pointed, straight, stretched and white with a hard crust with a rosy nacre. When enjoying, initially when the new snail is boiled, the ivory white flesh, then washed and watered again once the boiling water suddenly turns to yellow delicious. The meat of her breast meat was crispy but not as soft as clam, oyster and very sweet. Her breasts boiled not too fat like meat, not too chewy like oysters, clams, not as small as oysters. If you can enjoy the new snails of breast milk, you will feel the aroma, not mixed with any special food.
10. Ngum Quang Ninh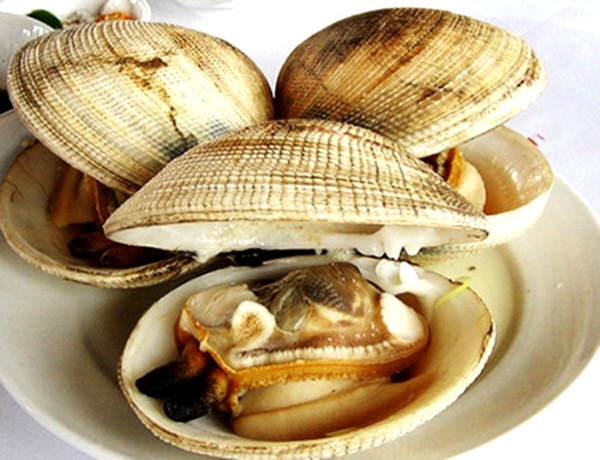 It is a krill that lives in brackish or saline water, with relatives close to the clam, which is quite similar to clam, but is a bit more clumpy, not smooth like a clam shell. The sound is bored but this is a rare and famous specialty of Quang Ninh waters. Although there are many similarities with the clam, but we cannot equate them with each other because of the high nutritional value, the price is therefore higher than the clam to a few dozen times. In the past, there were many, but the price was cheaper than blood cockles but now it is rare, so it can be classified as precious seafood.
Tusks can be processed into many delicious dishes. Although the name was boring, anyone could not resist the attraction when the banquet table was served.
11. Peanut worm (Quang Ninh)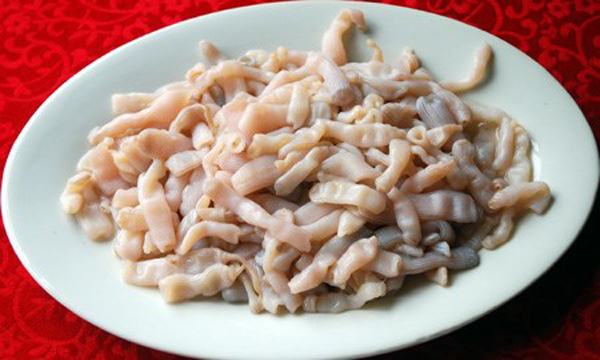 From peanut worms can be processed into a lot of delicious dishes that appeal to customers.
From peanut worms can be processed into a lot of delicious dishes that appeal to customers.
Peanut worms are one of the most famous specialties in Quang Ninh, in which Van Don peanut porridge is in the top class. The seaweed has been reported by scientists to contain up to 17 trace elements, eight irreplaceable amino acids and ten nutritional amino acids such as glycine, alanine, glutamine, succinic … In addition to out, with sweetness, coolness, devotional devotion also helps to treat the mind of welding, positive air. Peanut worms are also considered by the people as the best prey in the sea's prey. The species of crab, fish, sam, tu tu … must also be ranked later.
Fresh peanuts can be processed like sweet and sour stir fry, fried, baked, porridge … and many other delicious dishes.
12. Phan Thiet clam
The two-clam clam has a place called sugarcane oyster or corn silk oyster, scattered in the central coastal provinces, but most still in Tuy Phong, Binh Thuan and Phan Thiet. The 2-clam clam has ivory-white flesh, soft and thick, almost like a scallop. Clams are very large, about 10-15 heads / kg. The delicious sea-flavored clam meat is very sweet, so it is loved by many diners. Clam 2 also is considered nutritious seafood. The clam contains vitamin B12, which is especially good for memory and vitamin C to help heal wounds. The protein content in clam is much higher than that of meat, so it is also very nutritious for growing children and those who need protein to recover the body after being sick and enhancing immunity.
13. Binh Dai blood cockle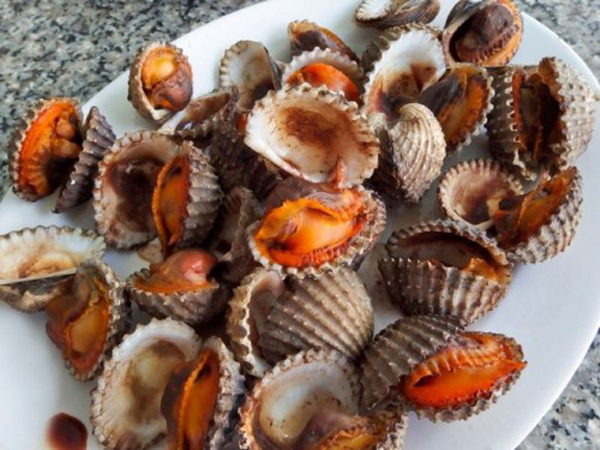 Blood cockles have long been known to be a very nutritious seafood dish. Blood cockles can be processed into many different foods with very high nutritional content. According to studies, in 100g blood cockles have the main ingredients: 81.3g of moisture; 11.7g of protein; 1.2g lipid; minerals; vitamins A, B1, B2, C, energy value 71.2 Kcal. With a rich source of protein, less fat, more minerals, blood cockles are delicious, popular seafood dishes.
14. Bien Phu Phu Quoc (Kien Giang)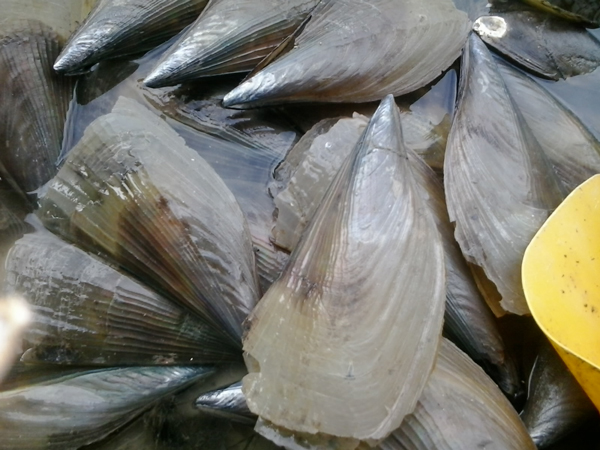 Mai mai is a two-piece mollusk. The sideburns are dark brown, the fan shape (flat, elongated like a half-closed fan), the weight is more than a kilogram, the meat is not good. There are only two layers of muscle (big coins, about half the size of the hands) connected to the two pieces called horns, all the essence of this species only focuses on that part. There are many ways to prepare a sweet dish: fried sweet and sour, steamed, cooked soup, hot pot, porridge or grilled with salt and chilli … When frying with shiitake mushroom, straw mushroom, onion and green cabbage. The sweetness of exotic seafood and the sweet sweetness of the pungent and sweet mushrooms add a little spicy of green mustard that people can eat without knowing it.
15. Shrimp head (Ca Mau)
Tit shrimp meat is both delicious, sweet, and rich in sea flavor, different from the taste of tiger prawns and lobsters … The white and white shrimp when boiled or steamed will turn red or dark brown. How to make headline shrimp is not very picky, just steamed, boiled or baked, salted with lemon pepper or tamarind sauce, is enough to hold the customers' feet in all areas … especially the dried head shrimps. Eat delicious, chewy, and naturally sweet.
16. Goby fish with Nghia Hung Nam Dinh
With a sweet, chewy, strong meat flavor, Bong Bong Nghia Hung – Nam Dinh fish quickly received the love of gourmets. In particular, the goby soup bowl of the rustic leaf has gradually appeared in many high-class and luxurious restaurants.